DESIGNED FOR MOBILE UTILITY CONSTRUCTION – IDEAL FOR ANY BUSINESS THAT COLLECTS DATA IN THE FIELD
DESIGNED FOR MOBILE UTILITY CONSTRUCTION – IDEAL FOR ANY BUSINESS THAT COLLECTS DATA IN THE FIELD
IF ANYTHING CAN MAKE MOBILE DATA CAPTURE AND REPORTING EASY, ACCESSIBLE AND LOW COST…APPCAN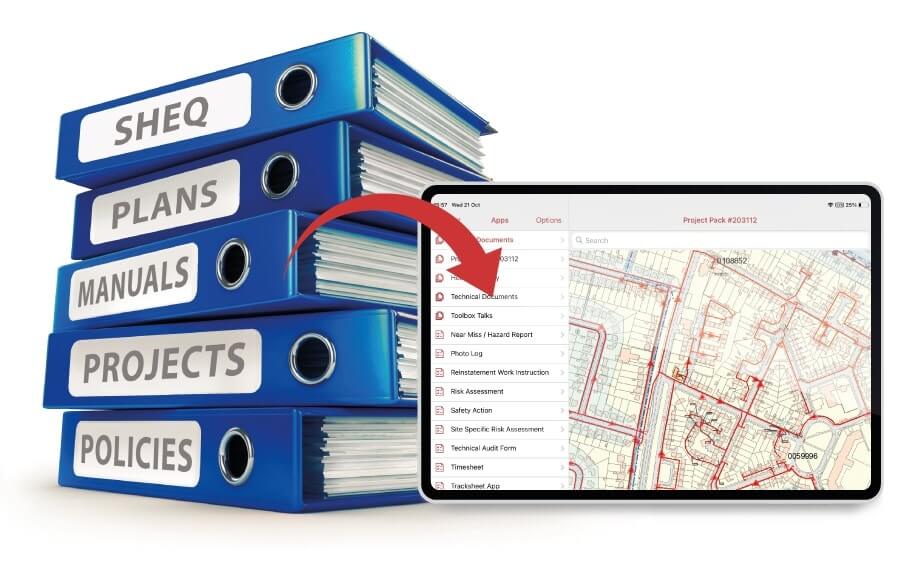 DOCUMENT DISTRIBUTION
MAINTAIN AND DISTRIBUTE YOUR LATEST DOCUMENTS AND DIGITAL PROJECT PACKS
Keep all your operating data in perfect order and make it easily accessible.

Share standard content – policy, procedures, manuals, technical standards, daily announcements and even briefings – instantly and in its most current form.
WHAT WILL IT TAKE BEFORE YOU EMBRACE DIGITAL AND GO PAPERLESS…
A dangerous health-and-safety incident or near miss?
Losing out to competitors' processes in new bids?
Or perhaps you've already over-invested in unnecessarily complicated and expensive systems?
APPCAN GIVES YOU EXACTLY WHAT YOU NEED FOR MOBILE DATA COLLECTION
IN THE FIELD AND MAKE GREAT USE OF THE DATA WITHIN YOUR BUSINESS
Sensible, Per-User Pricing
Low-Risk Subscription Model
Sensible,
Per-User Pricing
Low-Risk
Subscription Model
APPCAN CUSTOMER SUCCESS STORIES…
DRIVING PROCESS
"We operate a rigorous excavation permit process for proving the route into London, and needed a mobile system capable of capturing large amounts of field-data – including sketches, photos and GPS readings.  It also had to facilitate quick turnaround, via a hierarchy of reviews, for permits to be granted.  AppCan provides the best of both worlds; digital speed without compromise on our tough safety and assurance requirements.  Our engineering teams like it too, it would be very hard to return to paper-based systems now."
Paul Nicholls, Utilities BIM Manager
Costain Skanska HS2

SIMPLICITY
"Since implementing AppCan and getting rid of our paper-based processes, life is just so much easier for everyone. The relative ease that a process can be placed into the AppCan platform and then data presented into digitally orientated templates is truly awesome. We've been really impressed by both the power of the software and the service we have received."
Stuart Stevens, Operations Director, Specialized Pipe Technologies
IT DILEMMA
"As an SME we were looking for a way to quickly develop and deploy field apps to our workforce. With very limited IT capability internally and without a large budget for IT spend, we looked at lots of possible solution's but they didn't fit our business. I was recommended AppCan and have never looked back, its transformed our ability to capture data from site, improving our quality, productivity and reputation with clients."
James Lawton, Operations Director,
Caecillian Ltd
APPCAN IS A TRUSTED PARTNER TO MANY SAFETY-CRITICAL RAIL, GAS, ELECTRICITY AND TELECOMS ORGANISATIONS
Partners