DESIGNED FOR MOBILE UTILITY CONSTRUCTION – IDEAL FOR ANY BUSINESS THAT COLLECTS DATA IN THE FIELD
DESIGNED FOR MOBILE UTILITY CONSTRUCTION – IDEAL FOR ANY BUSINESS THAT COLLECTS DATA IN THE FIELD
APPCAN REINSTATEMENT MANAGEMENT
AppCan is not only a proven solution for managing the field activities of utility construction organisations, it's also designed to deliver an essential task; one common to most businesses in the construction sector – Reinstatement.
Organisations that need to excavate to access buried plant or network assets understand that reinstatement of public and private street works excavations can be complex to manage, especially at scale. Reinstatement requirements need to be gathered quickly and accurately, tasks need to be assigned to specific resources (backfill-grab, white-top and black-top teams) and final measures promoted to Highway Authorities to underwrite guarantee periods.
AppCan provides a comprehensive reinstatement works management solution. From initial request through to final completion, AppCan efficiently and effectively manages the planning, scheduling and assignment of multiple reinstatement tasks to your field workers and the capture and submission of their on-site records including full assurance data such as date and time stamps, photographs and GPS Eastings and Northings.
At the heart of this process is our unique Parent/Child feature. Reinstatement supervisors submit a 'Parent' record containing multiple reinstatement tasks (muck away, backfill, white-top, black-top etc.) Individual tasks are then automatically split into separate 'Child' rows within the AppCan planning and scheduling interface.
Your back-office team use this interface to schedule and push tasks to your field-force, who simply add completion date and times, images, final dimensions etc. as they close out each task on their iOS or Android mobile devices.
Completed work can be reported to your client's or your own street works team, who update street works permits with permanent reinstatement details for the guarantee period.
AppCan reinstatement management also includes all our other advanced features including Branching Rules, Repeating Sections, Field Validation, Calculation Fields and Record Forwarding. This is complimented by our enhanced web portal where user-defined views of 'Unplanned', 'Planned' and 'Completed Works' are maintained.
With all reinstatement requests and close-out data saved and organised within your AppCan Cloud, you can easily build reports to provide all productivity measures, closure reports, invoicing, wages and other key performance measures, such as 'D+3' / 'D+5' completion standards. AppCan Cloud also provides fast access to all your historical reinstatement records providing robust evidence to challenge or manage highway defects, overstay (site clearance) claims or help differentiate between legitimate and spurious claims for property or adjacent surface damage.
Sounds complicated? Not with AppCan – our dedicated installation and support team provide everything you need to have your own bespoke reinstatement app up and running in no time.
Contact us today to discover the many advantages of a paperless reinstatement process.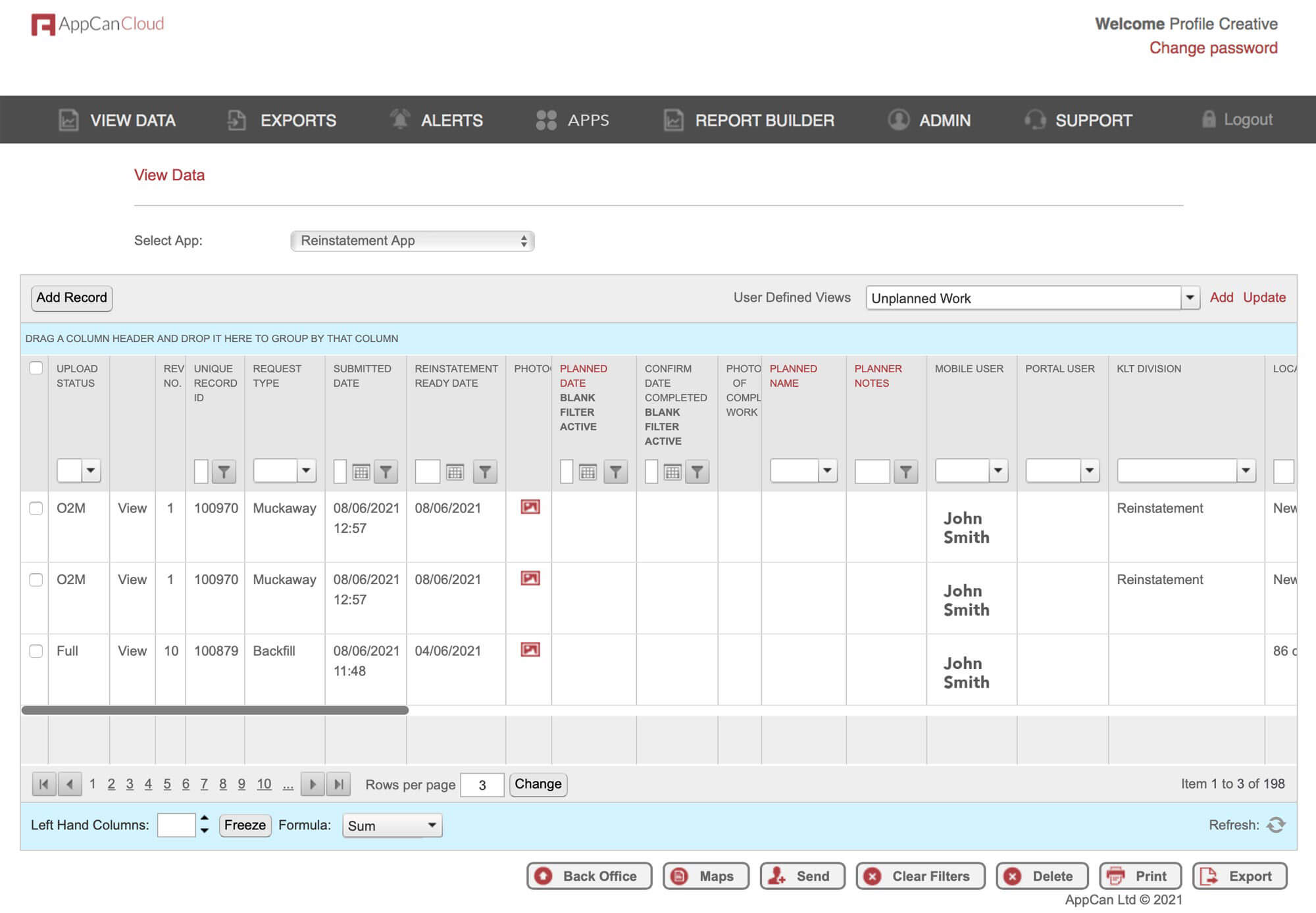 APPCAN IS A TRUSTED PARTNER TO MANY SAFETY-CRITICAL RAIL, GAS, ELECTRICITY AND TELECOMS ORGANISATIONS
Partners